Day Trip to Stratford-upon-Avon by Rail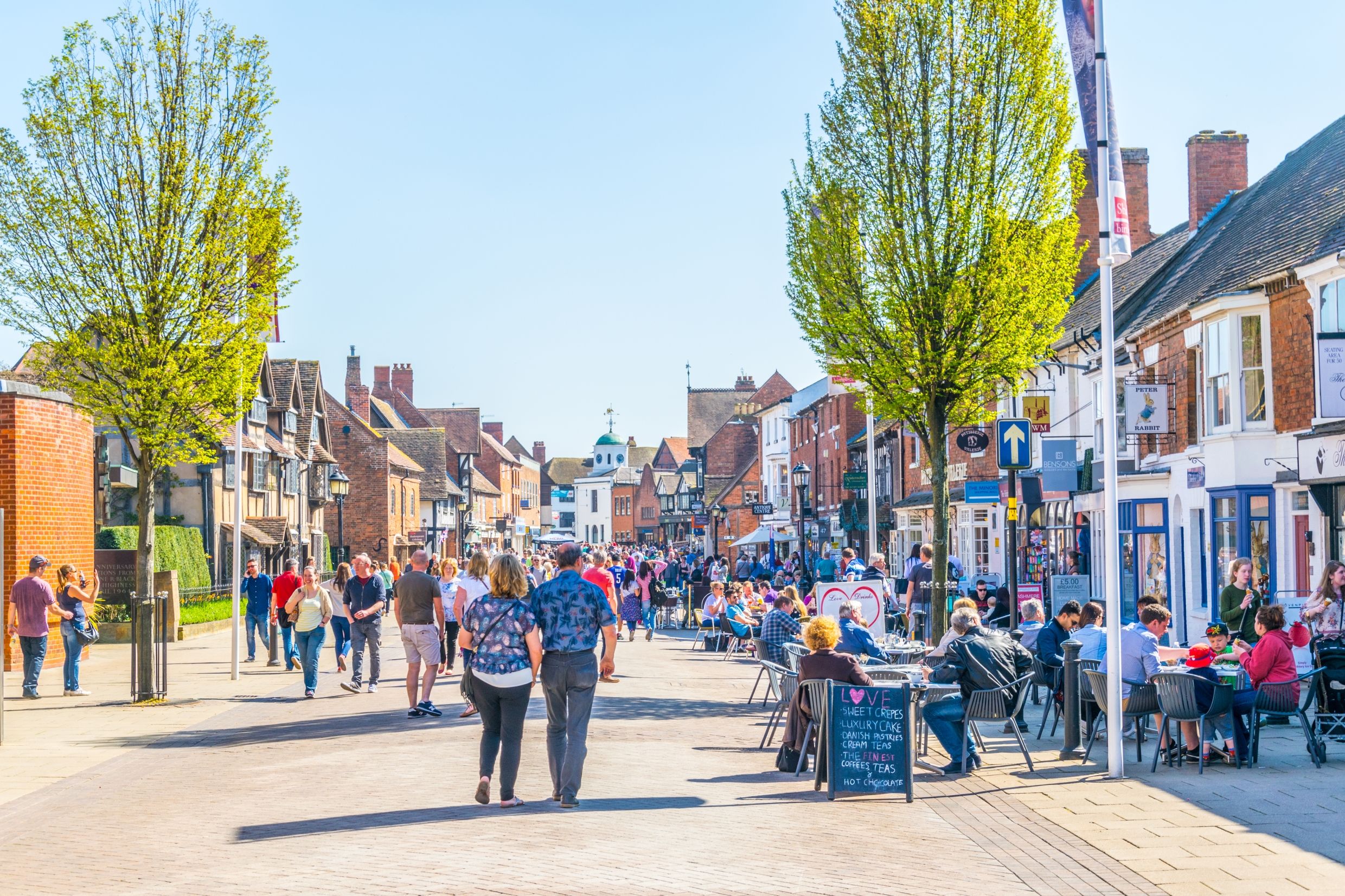 TOUR DESCRIPTION
Enjoy a day trip to this idyllic market town with our open return train tickets from London to Stratford-upon-Avon. Departing from London Marylebone and arriving to Stratford in approximately 2hrs, explore the town at your leisure. Why not pay a visit to the legendary playwright William Shakespeare's birthplace or Anne Hathaway's Cottage? You'll be spoilt for choice and what's better is that you can choose your return train home.
Same Day Return train tickets on Chiltern Railway
24hrs Bus Ticket (if purchased)
Meet and greet at Golden Tours Visitor Centre Baker Street
Transfer to/from Golden Tours Visitor Centre Baker Street
Food and Drinks
Important Information
Train Schedule
Meeting time: 9:30am
Meeting point: Golden Tours Visitor Centre Baker Street, 144 Marylebone Rd, London NW1 5PH
Monday to Friday – The train departs at 10:02am*, arrival 12:09am*
Please note: Trains are NOT direct. You have to change trains at Leamington Spa station. There is a transfer time of 10 minutes and you may have to change platforms.
Return Time: You can return anytime on the same day with your ticket.
*Train times can fluctuate by a few minutes. Please check exact departure times on the date on travel.
Please note:
Full refund if cancelled up to 72 Hours prior to travel date.
Train Tickets are valid for same day return trip from London Marylebone on any Chiltern Railways train departing after 9:30 on Monday to Friday or at any time at the weekend.
MORE INFORMATION
London to Stratford-upon-Avon by Rail
Meet your Golden Tours representative at 09:30am by Visitor Centre Baker Street, 144 Marylebone Rd, London NW1 5PH . Here, you'll receive your Open Return ticket. Your train departs at 10:02am* and will take approximately 2 hours. The train to Stratford is NOT direct. You will need to change trains and/or platforms at Leamington Spa.
Pretty and vibrant, Stratford-upon-Avon is an idyllic market town in the county of Warwickshire that has something for everyone. It owes its fame to William Shakespeare, who was born in the town and spent his formative years there. When in Stratford visiting Shakespeare's birthplace is an absolute must. Why not upgrade your day trip to include a 24-hour Hop-On Hop-Off Bus Tour?
Hop-on Hop-off Open Top Bus Tour
See the cultural impact of Shakespeare on Stratford-upon-Avon and explore the town's best sites on our hop-on hop-off bus tour. For 24 hours you'll have the option to choose from 11 stops and hop on and off as much as you like. You can also choose to stay on our open top bus for the duration of the route and simply sit back and relax!
Return to LondonYou are free to choose when you return on the day.
*Train times are subject to change. Please check on the day/before travelling.