Day Trip to Paris with a 3-course Lunch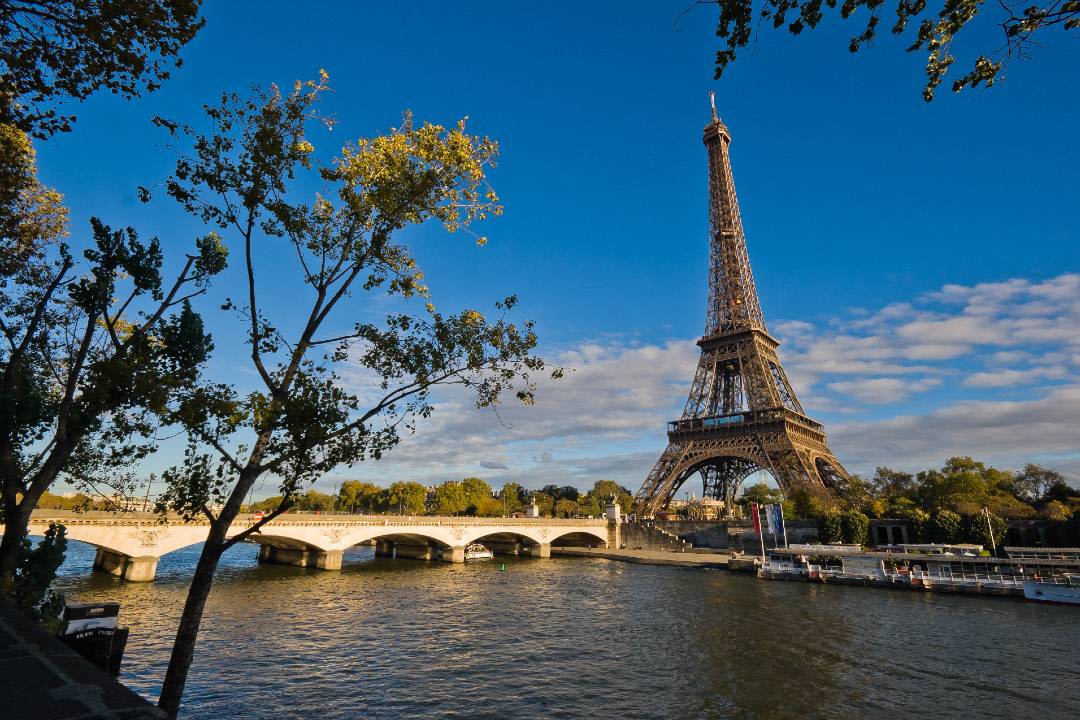 TOUR DESCRIPTION
The magic of Paris awaits. Enjoy a day trip to Paris where you'll be free to discover all the iconic sights at your own leisure and delight in a 3-course lunch aboard a river cruiser or at the Eiffel Tower.
Reserved seats on Eurostar
Three-course meal on the 1st floor of Eiffel Tower or,
2-hour cruise on the River Seine
Gratuities
Transport to and from Gare du Nord
Important Information
Schedule:
Eurostar
Meet your Golden Tours representative at Paul Express, Unit 2, St Pancras Station, Euston Road, London N1C 4QP.
Monday to Friday:
Train Departure Time: 7am*
Meet & Greet Time: 5:45am
Saturday:
Train Departure Time: 6:30am*
Meet & Greet Time: 5:15am
**Times are estimate and subject to change according to availability on the day. The EXACT time will be on the instructions email sent by the Rail Department with the Eurostar tickets within 2-3 weeks of travel.
Please ensure that you allow plenty of time to check-in at Gare du Nord for your return journey back to London.
Bateaux Parisiens Lunch Cruise:
Meeting point: At the foot of the Eiffel Tower, Port de la Bourdonnais, 75007 Paris
Boarding: Pier 5 or Pier 7
Boarding ends: 12:30pm
Boat departs: 12:45pm
Return to dock: 2:45pm
Madame Brasserie Lunch at the Eiffel Tower:
Address: 1st floor of the Eiffel Tower, Champ de Mars, 75007 Paris
Reservation: 13:30pm
Time: Please arrive 45 minutes before your reservation
Entry: Go to Entrance 1 with your booking confirmation. To reach the first floor, you must first go to the Madame Brasserie reception located on the forecourt to collect your lift ticket.
Please note:
You are required to carry a valid passport with you which will be validated at the check-in desk.
Please check your visa requirements before you travel.
Your tickets will be printed under the lead passenger's name.
100% cancellation charges apply to this tour - once booked it cannot be cancelled.
Golden Tours will have no liability if Eurostar trains are delayed for unforeseen circumstances such as security alerts, third party action or bad weather as this is beyond our control.
MORE INFORMATION
Eurostar Journey to Paris
Your Romantic trip to Paris starts at St Pancras International Station in Kings Cross, where the Golden Tours representative will meet you at Paul Express coffee shop (unit 2). Eurostar check in closes 30 minutes before the train departure time. Climb on board the shiny Eurostar, sit down, relax and enjoy the swift 2hr 15min journey through 31 miles of Channel Tunnel, located deep underneath the English Channel Sea. Once in Paris, you're free to explore the city at your own leisure before arriving at your chosen lunch option.
Lunch at the Eiffel Tower
A globally recognisable symbol of France, the Eiffel Tower is iconic and boasts spectacular views of the city. Get the lift to the first floor and bask in the breathtaking surroundings before dining on a tasty three course meal at the Madame Brasserie restaurant. You'd be hard-pressed to find a more romantic location to eat lunch!
See lunch menu here.
Lunch with Bateaux Parisiens
Alternatively, why not cruise along the River Seine for 2 hours as you enjoy a three course lunch aboard the all-glass boat. Discover all the iconic sights of Paris while you're treated to beverages and wines, as well as musical entertainment.
See lunch menu here.
Return Journey
As your Romantic Paris tour comes to an end, head back to the Gare du Nord at least 45 minutes before your departure time from Paris.