Sightseeing Cruise Flexible Tickets by City Cruises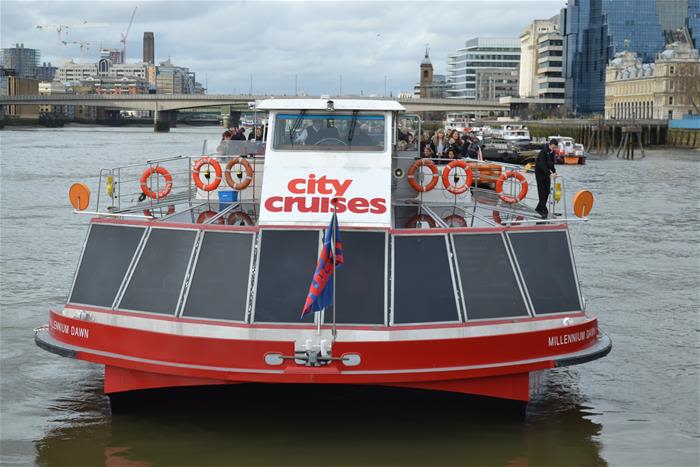 TOUR DESCRIPTION
Explore the best of London with this exciting hop-on hop-off sightseeing cruise
Unlimited usage of the River within a 24 hour period
Enjoy comfortable seating as you soak in panoramic views of the capital
Learn more of London's rich history with onboard commentary
Whet your appetite with hot and cold refreshments available
Hop on Hop off at any one of four Piers
Unlimited access to the River
Guided commentary of the many sights
Gratuities
Excludes food & drink
Important Information
Operates:
Pier Locations:
Westminster Pier, Victoria Embankment, London SW1A 2JH
London Eye Pier, Westminster Bridge Rd, South Bank, London SE1 7PB
Tower Millennium Pier, Lower Thames St, London EC3N 4DT
Greenwich Pier, King William Walk, London SE10 9HT
Duration from pier to pier is approx. 30min, except from Westminster Pier to London Eye Pier which is 10min
Please note you can board the cruise for any City Cruises pier with 24 Hour River Pass.
Frequency : Cruise departs every 40min from 10am till 6:10pm from Greenwich pier or 6:5pm from Westminster (no return journeys at these times)
Please note:
Audio Guides are subject to availability*
MORE INFORMATION
We live for being on the river, setting sail every 20 to 40 minutes depending on the season. Explore London's sights like you've never seen them before, from four fantastic Thames spots: Westminster Pier, London Eye Pier, Tower Pier and Greenwich Pier. We know how to make your trip extraordinary. Our boats offer panoramic views, an open-air upper deck or a comfortable heated indoor saloon and even a café-bar. With commentary on the sights, landmarks and history from our expert captains, you'll get a new perspective on our amazing city's story. We have 4 strategically located piers that allow easy access to all the main riverside attractions while ensuring less of your sightseeing time is spent waiting at a pier. Our flexible sightseeing ticket can be used for a single journey or return journey from any of our sightseeing routes at any time.
Upgrade to 24 Hours Hop-on Hop-off Sightseeing Cruise
Cruise through the heart of the capital onboard a River! This exciting way to travel guides you along the Thames, giving you exceptional views of London's most iconic and famous landmarks and locations. If you take in sights of the Houses of Parliament and want to venture into the historic Parliament Square to discover Westminster Abbey, St Mary's Church and Big Ben, then you're free to hop-on and off the boat as you please! With options of any of the four London piers, you'll get to explore London at your own leisure whilst cruising the waters in between.
Onboard Experience
If you opt to stay on the boat, you'll get to enjoy guided commentary revealing London's rich history as you pass each location and that's not all. Taking a cruise can work up an appetite (or at least that's the excuse we like to use!) and that's why there will be hot and cold refreshments available on board for you to enjoy. With so much to see and do, you'll have 24 hours unlimited hop-on hop-off fun to have! Explore the very best of London by cruising the Thames.
Please click here for City Cruises timetable.